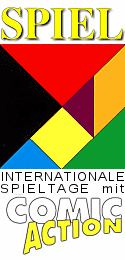 On Saturday my girlfriend and I accompanied some friends to the world's biggest consumer fair for gaming, the SPIEL in Essen, Germany. On over 44,100 square meters, all kinds of games are shown, sold and played. From what I've heard approximately 152,000 people visit SPIEL every year, which makes it five times larger than this year's Gen Con. And from what I've experienced this Saturday, this might be pretty close to the truth.
But I didn't enjoy SPIEL as much as I did enjoy Gen Con. Some of you may ask why this was the case. There are several reasons. SPIEL is no gaming convention but a consumer fair. If you are expecting seminars and workshops, you won't find them at SPIEL. It's all about the huge exhibit halls. And even though the halls are huge, everything feels cramped. Because of the huge amounts of people visiting, the aisles between the booths are usually full of people. Where ever you stop to check out a booth you are in the way. To put insult to injury it's extremely hard to find the booths you're looking for. If you knew the booth numbers at Gen Con it was actually pretty easy, but in Essen this is an almost impossible feat.
After several hours of walking around, checking out the booths, talking to some people I knew, my feet began to hurt. But alas there were no seats where visitors could just sit down and relax. Gen Con was much more bearable because you always found a place to sit, sometimes even in the convention center, but at least in the hotels you always found a place to relax.
I also quickly found out that roleplaying games are only a minor part of what SPIEL offers. Hall 6 was mostly the "roleplaying game hall" but a lot of space was taken up by LARP supply vendors. And when I am not mistaken, Flying Buffalo was the only US publisher with its own booth there. And aside from Dungeonslayers I was not really interested in any new releases by German publishers.
But of course it was not all bad. I finally had the chance to meet Christian Kennig, the author of Dungeonslayers, in person. He not only signed my copy of the softcover version of the game, we also walked through the exhibit halls together, talking about roleplaying games in general and Dungeonslayers in particular.
I also had the chance to talk to James Raggi for a minute. Alas I didn't have much time, because I found his booth mere minutes before I had to leave again. So instead of buying the awesome "Lamentations of the Flame Princess" boxed set, I had to say goodbye and leave. I also forgot to properly introduce myself, so he probably still doesn't know who I am.
So, what did I pick up at SPIEL? Aside from a signed copy of Dungeonslayers, I picked up the Cosmographer addon for Profantasy Software's excellent Campaign Cartographer software, and two Erdenstern CDs. Although a lot of booths gave some trade fair discounts up to 20%, I didn't buy that much in the end. I think I had already picked up most of what interested me in the months before.
Going to SPIEL was an interesting experience but I doubt I'll attend this fair next year. It's just too many people and not that interesting to me. Your mileage may vary of course. But I am thinking of attending the Role Play Convention in Cologne next year and if everything goes as planned, I will go to Gen Con again.