I consider myself a tabletop roleplaying games fan. I have enjoyed playing RPGs for most of my life, I've run games myself for over 25 years and I have introduced quite a few people to the hobby. But unfortunately the roleplaying game hobby has its issues and we all need to acknowledge that there has been a huge problem with misogyny and racism especially in its early days but still to this day.
A recent Twitter post dragged the topic back into the public's eye. It featured screenshots of two posts, one written by Gary Gygax and the other by Jonathan Tweet. As we all well know Gary Gygax is considered as one of the fathers of our hobby, while Jonathan Tweet is well known for his work on D&D 3rd Edition, 13th Age, and Over The Edge. Especially 3rd Edition and OTE had definitely quite an impact on the hobby today.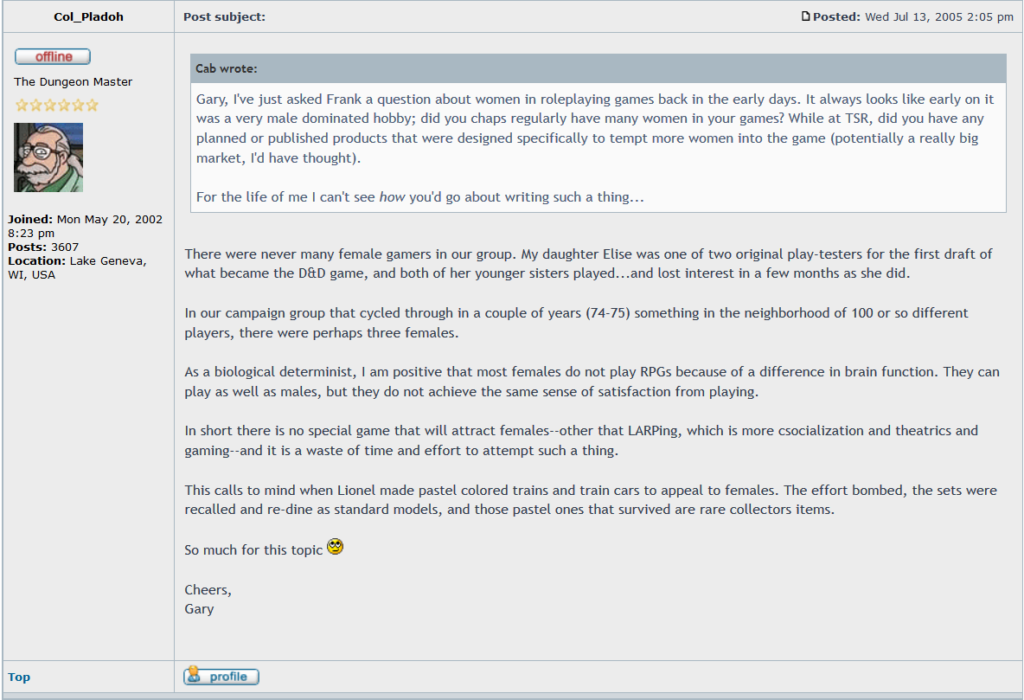 Let's unpack Mr. Gygax' post first. He gave his thoughts on why tabletop roleplaying games were male-dominated in the early days and his conclusion was that "most females do not play RPGs because of a difference in brain functions". Oh boy! He also mused that it was a waste of time and effort to attempt to write games which included women as a target audience. Discussing the neuroscience behind Gygax' claims would be well beyond the scope of this post. Let's just say that roleplaying games are nowadays enjoyed by people of all genders. Sure, there are probably still more male RPG fans but that's probably because people like Gygax never even bothered to see women as a target audience.
In a way it's a self-fulfilling prophecy. If you believe women just don't enjoy a certain kind of games and then tailor your game towards a young male audience, it's unsurprising if female gamers are not particularly interested in your product. But the best proof that Gygax' assumption was wrong is that despite all the issues D&D had, it was still enjoyed by many female gamers. So he was obviously wrong and misogynist. Heck, the more I read about Mr. Gygax the more I get the impression he was not a very nice person. So why should we care?
For one I think uncritical praise of people like Gary Gygax is wrong. You can appreciate what he has done for the hobby even while acknowledging what he did wrong. The other thing is that a lot of his weird ideas on women (and race for that matter) made it into the game. In the process of modernizing D&D Wizards of the Coast would be well-advised to put particular care into making sure that these elements are removed.
Unfortunately some of the people who later worked on D&D shared some of Gygax ideas. Jonathan Tweet is such an example. Over the last few years he has made several racist and misogynist remarks which caused quite a turmoil especially among fans of 13th Age, a game which he designed together with Rob Heinsoo. A quote by Mr. Tweet is included in the screenshot below.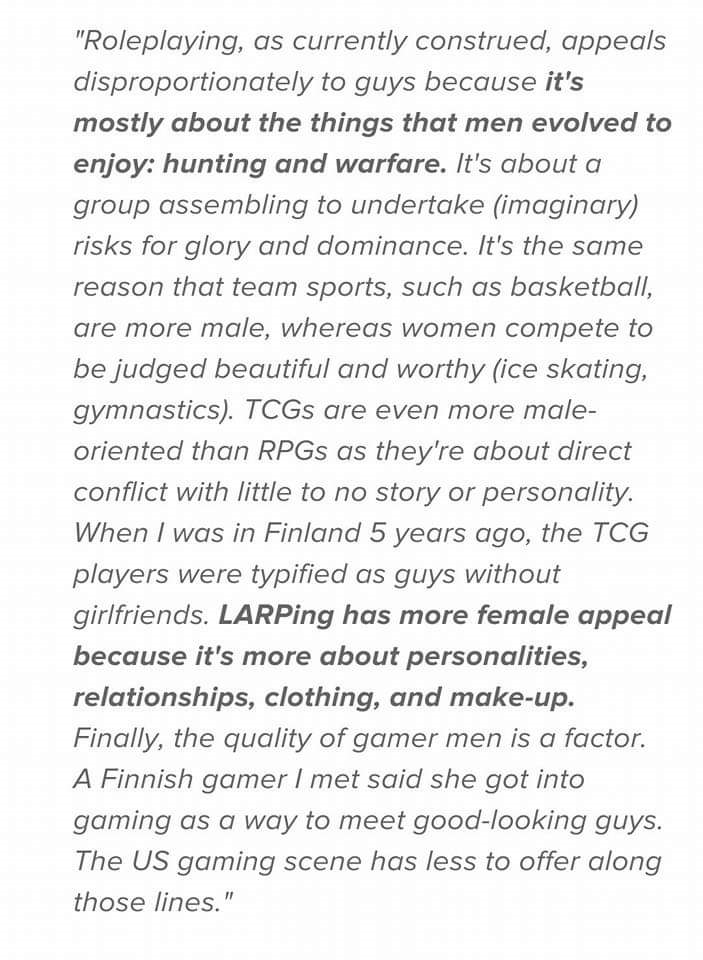 He posted these lines on his blog on Gleemax (WotC's now defunct social site for gamers) back in 2008. I find it particularly interesting that both Gygax and Tweet mention LARP in a derogatory manner. I also find the "quality of gamer men" remark ridiculous and offensive, especially since he makes the allegation that female gamers are actually more interested in "good-looking guys" than the games themselves, which is pretty close to this whole "fake gamer girl" bullshit.
Over the last few years I have realized that looking up to "industry luminaries" is often a terrible idea. More often than not our "heroes" turn out to be terrible people. Even worse their often harmful ideologies make it into the games they created which make it hard to separate the art from the artist.
One last thing: I've disabled the comment feature under this post. If you want to discuss it, feel free to get in touch with me via social media.