I am currently reading through the D&D Rules Cyclopedia from 1991 and I'm constantly discovering game aspects that the later editions lack or which have been severely limited in scope. One of these things is the idea of a travelling vs. a land-owning character.
In Basic D&D there was a concept known as "Name level". When your character reaches level 9 you get a fancy title and you have to make a choice: do you want to own land and construct your own stronghold, tower or hideout, do you join a noble's court or do you continue as a travelling character? Some classes have more options than others, but that's basically the gist of it.
Personally I love that a lot. Strongholds, towers, and hideouts are not just a physical sign of a character's achievements, it's also a great plot device. A personal stronghold can be attacked, there might be conflicts with neighbors, or there are disputes for the lord of stronghold to settle. Players have to make important decisions which not only affect themselves, but also their staff, their subjects, the lands around their stronghold. It's not just dungeon delving and monster killing anymore, but starting with level 9 politics get into the picture.
When the player characters want to go on a quest away from their personal holds, new questions arise which may be hooks for exciting adventures. Who will manage the daily affairs when the player characters' are away? Will something happen while they are gone off on a quest? Perhaps one character is in the service of a noble who asks a favor from the party before they give permission for the character to leave. The adventures basically write themselves.
Even if you decide against being a land-owning character, the so-called BECMI edition of Basic D&D offers a couple of interesting options. Fighters can become Paladins or Avengers and swear fealty to a clerical order. Or they can become knights and pledge their allegiance to a noble. Magic-users may work at a noble's court as adviser. A cleric may decide to become a Druid. Regardless of what option you choose it will tremendously affect how the campaign develops from this point on. Reaching "Name level" and settling down may also be the perfect end goal for a shorter campaign.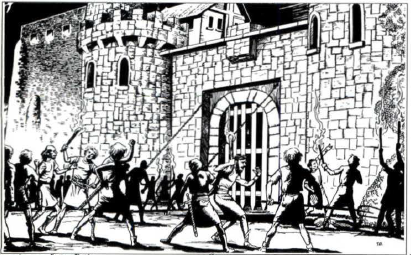 I don't remember building one's own stronghold being part of AD&D 2nd Edition (but I might be mistaken since I haven't played it in a long time) and when Wizards of the Coast took over, it didn't make a comeback either. Was it that unpopular with the majority of fans? Or are there other reasons why this feature of the game was faded out? If one of my honored readers knows more about this, please share in the comments below.
By the way, in 1993 Stormfront Studios developed a D&D computer game called Stronghold (not to be confused with the game series by Firefly Studios which started in 2001) which was basically a D&D-themed city builder. It might have out-dated graphics and a worse user interface, but it's still quite enjoyable to play and it has a certain old-school charm. It's available on GOG for about 5€ and thanks to DOSBOX it runs great on modern PCs.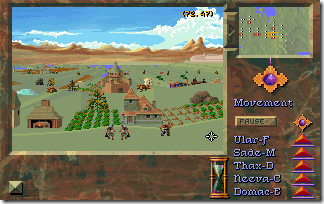 What are your thoughts on strongholds, towers, and hideouts? Is this something you miss in newer editions of D&D or are you glad this aspect of the game had been thrown out? Please share your thoughts in the comments below!