I have never really paid much attention to the OSR movement. Firstly, I didn't really understand if it was Old School Revival or Old School Renaissance. Then I didn't know what counted as old school. I mistakenly thought that it was a move back to the style of gaming that we all discovered in the 70s and early 80s. It then appeared that that isn't the case and OSR is a just limited to D&D retro clones.
I think within 12 months of owning the D&D basic set, red box, I was writing house rules even if I didn't know that the phrase 'house rule' meant or even existed. We were modding our games on a monthly basis. We absorbed every new spell, character class, monster, magic item and rule suggestion when ever we saw them. Initially there was loads of D&D material in White Dwarf magazine and that was easier to buy than Dragon magazine.
As soon as you saw how other people were modifying the game then we all started doing it. I can remember the first time my character got hold of a musket. I quickly went from D&D to Boothill to Traveller and then Runequest. Boothill was a brief liaison and I can put Gamma World in that group as well.
As soon as I discovered RuleQuest and Traveller with its on target combat system I had to have hit locations in D&D. Once you have hit locations then armour by the piece is a natural extension.
Once we had Gamma World we basically had D&D compatible high tech equipment. I think it was 1979 or maybe 1980 that I discovered Gamma World and I only ran one adventure and that had mutant chickens called Gallus Gallus513. That name has stuck in my memory ever since. One day I will manage to slot a mutant chicken into a game with that name.
It must have been 1981 that I discovered Rolemaster. This is back in the day or the rules being sold as drop in house rules for D&D and we could drop lots of our own house rules and use these awesome books instead.
Once I had all of rolemaster I house ruled that to make it a bit more like RuneQuest, which I think came out first, possibly 1979?
The point of that little jog down memory lane is that is RuneQuest old school? Is rolemaster old school? Rolemaster Classic is a basic rerelease of Rolemaster 2nd Edition and the 2nd edition was pretty much just a tidying up of those piecemeal D&D house rules. There is still a huge amount of Dungeons and Dragons DNA in Rolemaster Classic right down to magic users not wearing armour for absolutely no good reason at all and everyone taking Sleep as their most useful 1st level spell.
I suspect that if I published a Rolemaster adventure and stuck the OSR labels all over it there would be howls of protest.
Even given that OSR really means the resurrection of old D&D rules in infinite variety I don't really understand the appeal. I understand that no one is forced to play OSR or D&D the reason we stopped playing it surely is because it really wasn't very good.
Other games flourished and we had the proliferation of so many different games because those games could do what they did better.
I cannot even see it as a desire for simpler games. D&D was never simple. The DMG was basically 300 pages of exceptions to the basic mechanics. Rolemaster was labelled chartmaster because of the visual onslaught of and entire book of charts, Arms Law, but D&D had more charts and tables but scattered far and wide.
I am sure it is a case of if you 'get' the whole OSR thing then it makes perfect sense. What started me thinking about this today was that I was asked to do a review for an OSR game. As is my habit I looked up any other games that the publisher had produced and as this was an indie developer I ended up looking at his MeWe profile as well.
One of the things about OSR seems to be that it has attracted a lot of what I would consider unpleasant people, that is what the reaction to the logo was all about in Michael's recent post. Well this game was written by one of those people. There was no way on earth I was even going to read the game based upon the personal posts by the author.
I have had some tense discussions with people on forums especially in rolemaster circles where I strive for ever greater simplicity in my play and they revel in the micromanaging of every detail. In the Rolemaster community we are discussing the idea of a competition to create spin off mini RPGs 'powered by' a core of the Rolemaster rules. I am all in favour of this sort of thing and bringing Rolemaster to genres and audiences it has never appealed to before. Those with opposing views are saying that you cannot go outside of fantasy or sci fi as any realistic simulation of wounds would mean that the PCs would die from infections if there were no magical or high tech healing. I don't agree with them but I can understand their point of view, this would be a fun competition and not compulsory homework, their gaming table, their rules.
That is nothing like sort of argument I am seeing in even my brief encounter with the OSR, I cringe to use the word, community. I can now understand why the logo's owner would not want it associated with some of these games. I honestly had no idea. It is obviously not D&D's fault, nor the OSR concept that breeds hate speech and intolerance. I don't really understand why it has coalesced around OSR. If OSR went away they would not all suddenly become liberal pluralists. They would hold the same views if they were playing any game or not gaming at all.
Where did all this come from?
I was doing a bit of digging and I came across this. It is from White Dwarf magazine issue 2, August 1977.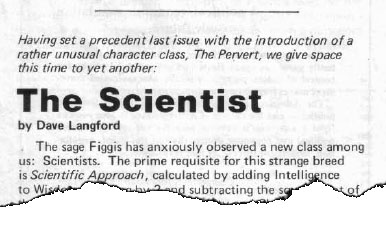 Look at the italic text. It looks like the dark side of role players had been there right from the start. I guess I was just too young at the time to see it. Maybe, the OSR community in moving back into old style D&D gaming has stepping into an area of gaming that has already been there quite happily for decades without drawing attention to itself.
I don't know and I don't really care. All I know is that any ideas I had of trying to suggest that Rolemaster was a perfectly valid OSR system is now firmly in the 'bad idea' pile. I won't be doing that any time soon.