ESCAPE THE NOOSE is a Zweihänder adventure from Nights of the Shed that makes full use of the Main Gauche [MG] supplement. The booklet does say that you may want to use Main Gauche, I would say it is virtually essential. I am not saying this is a bad thing, rather I think it is a great adventure to introduce some of the cooler parts of the Zwei addon companion to a game.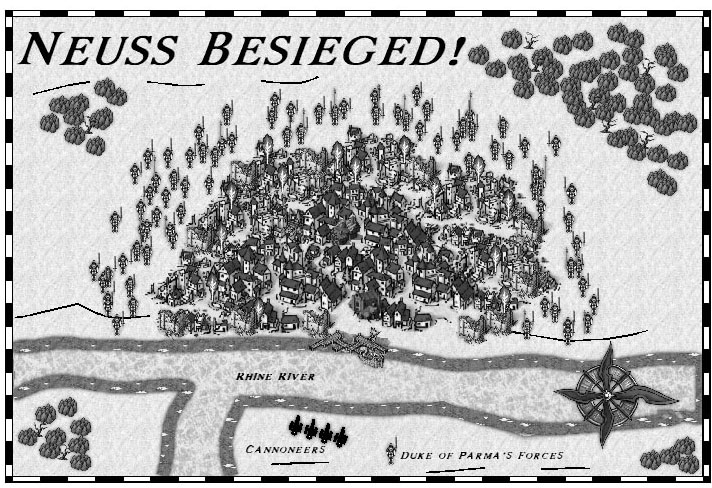 The stand out thing for me is the setting for this adventure. It is as close to 'real world' as I have ever seen in a published adventure, that included spell casters in the NPC list. What ESCAPE does is place the PCs into real world historical events and these play out as a backdrop to the characters' trials and challenges. Zweihänder is not a game where the PCs are going to change history and turn back armies, the history books are probably safe.
The 'adventure' and I use the quotes intentionally is intended to last just one or two sessions and is best suited to bringing characters together and bonding them into a party. For that alone it is a great tool. The down side is that it is not really much of an adventure. There is one entry point and one exit point and a list of set play encounters in between.
So is this a good adventure module? I think it is. It is a little railroad but for a first session with new characters that is fine. At the end of the written module there are a number of ways the characters story can go, that is where the freedom to tell their own story really comes in.
Even through this is built out of a string of set plays the characters still have options. Zwei characters are not renowned for being heroic, just surviving is often enough. In the characters escape they have those opportunities to someone's hero even if it is just one life at a time and their actions buy the victim just a moments respite.
You do not really have to take my word for this as you can listen to an actual play of this adventure on Sound Cloud https://soundcloud.com/user-458434613. I confess that I have not listened to it. There is not much in role playing that I don't do but watching or listening to other people play is one of the things I simply don't get.