If you haven't already, you should have a look at Part 1 and Part 2 of my Best & Worst of Gaming 2009 series.
Best Adventure
The best adventure of 2009 was not one, but many! If you have followed my blog you may have read about Michael Shorten's and Philippe-Antoine Ménard's One Page Dungeon Contest. They looked for the best one-page dungeons and on July 31st they released the One Page Dungeon Codex 2009 which contained all winners and the runner-ups, but also several blog articles about the history of the One Page Dungeon Template and how to use it.  Definitely my pick for best adventure in 2009! And the fact, that my contest entry was one of the runner-ups had nothing to do with that decision… honestly!
Best Free Product
For me the best free product of 2008 was Christian Kennig's Dungeonslayers game, because of the rules-light system and it's great community support. For the German edition of the game you can not only download the free core rules, but also four rules supplements (which add optional rules, new equipment and new spells to the game) and over twelve one page dungeons. Aside from that there are several accessories like printable floor plans, various sheets, monster cards, a GM screen and many more free goodies. If you are looking for a great free fantasy game which is not an OD&D clone, you should have a look at Dungeonslayers.
Best Production Values
The production values of roleplaying games have improved tremendously over the years but the product line that impressed me most recently was Alpha Omega by Mind Storm Labs. The original core book had been printed back in December 2007, but the creature book called "The Encountered Vol. 1" has just been released last year, so I think the Alpha Omega game line is still eligible for this category. Like the core book, the Alpha Omega creature book is a hardcover book with horizontal format, full-color glossy paper and gorgeous artwork. If you have the chance to leaf through a copy of one of the Alpha Omega books at a FLGS, you should do so.
Close seconds in this category were the recently released Rogue Trader RPG and Paizo's Pathfinder RPG (but haven't we praised Paizo often enough already?).
Best Trend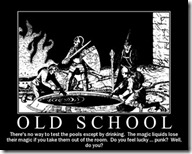 The best trend of 2009 was probably the renewed interest in old-school gaming. I am sure this trend started even earlier, but last year it became much more noticeable if you ask me. Swords & Wizardry won an Silver ENnie, Grey Area Games released the awesome pseudo retro-clone X-Plorers and even Green Ronin's latest game, the Dragon Age RPG, is very much reminiscent of old-school games and even comes in a boxed set to boot. 
This concludes Part 3 of the series. I will cover the remaining categories in the fourth and final post, so stay tuned!