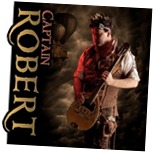 Today we have a chat with "Captain" Robert Brown of Abney Park and Peter Cakebread and Ken Walton of Cakebread & Walton. They agreed to answer a few questions about the recently released Abney Park's Airship Pirates (among other things) with us.
Stargazer: Let's start with the inevitable introductions. Could you please tell our readers who you are and what your part in the development of Airship Pirates was?
Peter: Hi, I'm Peter Cakebread, one half of Cakebread & Walton, a UK company whose RPG books are published by Cubicle 7. I co-wrote the Airship Pirates RPG with Ken Walton.
Ken: And I'm Ken Walton.
Captain Robert: I'm "Captain" Robert. The world of Airship Pirates is based on my work. I've been writing and releasing albums for 20 years, and the lyrics of those often seem set in a very unique retro sci-fi world. When Peter and Ken first approached me with the idea of making this world the setting of an RPG I was already working on a novel. I sent them the novel, and the lyrics, and then I helped gather and organise illustrators (I did some of the illustrations myself, including the cover art) and I did the graphic design of the game book.