Like the Spanish Inquisition in a Monty Python sketch, nobody expects a post by Sunglar! If you search for my last post, it was August 5th last year, the supposed first post in a series for #RPGaDay2019, and after that nothing. The post before that was September 1st, 2018, the last post in #RPGaDay2018. See a pattern? I still say I'm a contributor to this blog, so I better fess up and write my yearly post!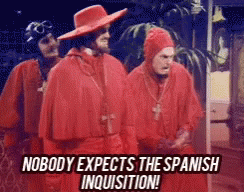 If you want to avoid the sappy recap, jump ahead three paragraphs! Look for the #RPGaDay2020 image below.
I've been participating in #RPGaDay since 2015, five years! So much has changed. I'm a dad, I have a fantastic job, but one that requires a lot from me, when the baby is asleep I don't want to do any writing or recording, I just want to rest. Hey, that does not mean I've given up on RPGs. I still play my weekly game, currently paying my 33-year-old homebrew campaign using Castles & Crusades by Troll Lord Games. I'm still active with Puerto Rico Role Players, and if we are friends on Facebook or you follow me on Twitter (@Sunglar), you'll see me talking about RPGs and other subjects.
Continue reading

We interrupt this blog for… #RPGaDay2020!