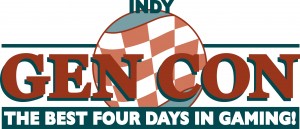 I realize it maybe a little premature to be so excited about it, Gen Con Indy is still over a month and a half away, but I feel like a kid the night before x-mas. Gen Con was a mythical place for me most of my life. I read about it, saw pictures, knew people who had been there, and I could not wait to make the pilgrimage that every RPG geek must do at least once in his or her life. So back in 2007when a friend put together a trip I jumped at the opportunity.
We all gathered together and travelled from sunny Puerto Rico to that mysterious land called Indiana. I loved going, it was fun, exciting and I spent far too much money! Since we went as a large group we spent most of our time together, I played little and had very little interaction with other convention goers. Amazingly for a gaming convention I only played a couple of encounters at the Wizards of the Coast room and some demos at booths, but that was it. My fellow travelers played some CCGs but that's not my thing so I roamed the Exhibitors Hall and took a LOT of pictures.
When we left we all said "We are coming back!" And we meant it, but real life happens and putting together a trip where all of us can coordinate our schedules becomes harder and harder. Then I began writing for the blog, and last year when Michael said he was going I wanted to go to Gen Con and meet the Stargazer (i.e. Mr. Rock Star). Sadly work and other situations kept me from going, 2010 was not the year for me.
By the end of Gen Con 2010, seeing all the fun Michael had, I was convinced I just HAD to go this year. I had hoped Michael could make it back, but sadly it looks like I will be the sole representative of Stargazer's World  at the convention this year (unless some of the other regular contributors is going, in which case I apologize for the mistake). The crew that went to Gen Con in 2007 tried to get together and go again this year but plans fell through. Still friends from Puerto Rico Role Players were going, and other friends living in the states as well, so I knew that if I went I would have people to hang with.
Knowing this I pre-registered and eventually got around to buy some airfare. A friend who was getting married that weekend actually changed the date of his wedding and will be traveling to Gen Con (Yamir you rock!) so everything was set. Then the complications started. I took on more responsibilities at work, new project started coming up and I began to question whether I would actually make it. In this uncertainty I put off getting a hotel reservation while things sorted themselves out.
Two weeks ago it looked like I would have to cancel and accept I would NOT be going to Gen Con Indy. But I negotiated, bartered, cajoled and I finally this week got the confirmation that I could take those days off. First thing I did was go online searching for a room. I knew it could be difficult to get a good room nearby this late in the game but I was willing to spend some money for the right place. Amazingly I managed to get a room at the Crowne Plaza Hotel Downtown at Union Station that from what I read is right next to the convention center!
So I'm all set, pre-registered, airfare and hotel. I'll be arriving Wednesday August 3rd at night and leave Sunday the 7th at noon. What would I do different this time around? First what I don't want to do.
Not buy so much! I am not complaining, last time around I had the disposable income to get pretty much whatever I wanted, but there is stuff I got back them I still have not used. I want to spend less time in the exhibitor's hall.
What else… Ok on to the things I WANT to do!
Play more! This time I want to try and join some game (if I'm not too late and someone will have me) and maybe even Gm a game myself. I have a hotel room to myself so I can host and I would like to put it to good use.
Meet up with my friends from Puerto Rico and rock Gen Con Boricua style… I am trying to get in contact with all the fellow Puerto Rico gamers going so we can plan something. I'm looking forward to seeing Daniel, who will be working with This Just In From Gen Con. Last time we ran unto each other the LAST day of the con. I hope to correct that mistake this time around.
Meet some of the virtual friends I've made through the blog. Writing here I've met some amazing people, writers, publishers and readers who I keep in contact with here, in Facebook and Twitter. So I look forward to meet you! If you are interested drop me a line here, on Twitter (@Sunglar) or via email sunglat@hotmail.com, I'd love to talk in person.
Report for the blog. I'd like to use the time I'll have in Gen Con to report on what's going on, interview writers and publishers, and generally share my experience at the convention with our readers, like Michael did last year.
So it looks I have a full plate and it's a pretty ambitions list. If I get to do a little bit of each I'll be happy. Anything I'm missing, anything you would like to suggest? I'd sure want to know. So for now all I can say is see you at Gen Con!
PS – Here is a link to a video of Tavin Pumarejo, el Hígado de Ganso, a singer of "typical" Puerto Rican music. I used the cover of one of his old LPs for the last image in this post.