Fourth favorites RPG entry this week for the #RPGaDay2015 challenge! Big thanks to everybody who's left a comment, liked or shared in social media, It's good to be back blogging, and one of the best things is getting back in touch with the wonderful community of Stargazer's World and the greater RPG blogging community.
The topic today is spine tingling, in special mythos vision!
Day 21 – Favorite horror RPG
No contest, Call of Cthulhu!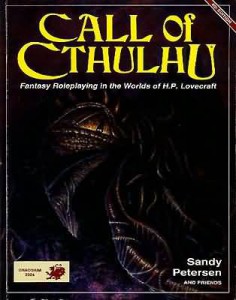 The first edition I owned!
Lately it seems Cthulhu is everywhere, like John Kovalic said in Dork Tower, Cthulhu is the bacon of gaming! There are so many systems you can play a Cthulhu game in, D20, Gumshoe (Trail of Cthulhu), Tremulus, and I'm missing a few, but for me the original Basic RPG, percentile based, Call of Cthulhu, is still the best.
Amazingly I've never run a CoC game! I've only ran a couple of horror one shots using a freeform system, a one shot zombie game and a 7 session zombie mini campaign using Savage Worlds, but never Call of Cthulhu. Why is that?
I really believe it has a lot to do with player expectations, CoC really requires a different mindset from the combat intensive, kill'em loot'em typical fantasy game, and sometimes players are not ready to play character with sanities flimsier than a Kleenex.
However, I LOVE playing horror games, I was spoiled by my good friend Luis Miranda who really ran some amazing Call of Cthulhu games. I would play another of his CoC adventures in a heartbeat.
On the last three posts I've listed all the genre media that inspired my love of those games, but in the case of Call of Cthulhu it was the game that introduced me to the works of HP Lovecraft, others that contributed to the mythos and all the wonderful horror literature inspired by this mythology. Granted Lovecraft can be a controversial figure, but his stories still hold my interest and I discovered so many wonderful authors thanks to this game, and that's a good thing!
What's your favorite horror game? Let us know in the comments. See you tomorrow.
PS – I might have shared them before, but I think they are appropriate for the post, the Reaper Cthulhu miniature (and that term is relative) painted by my good friend Braulio Rivera in front of a CoC boxed set. Enjoy…