Recently I had the chance to do a short interview with Chris Birch from Modiphius. Modiphius is a pretty young company but is already well-known in the RPG community. The Kickstarter for Achtung! Cthulhu was a huge success and their recently released Mutant Year Zero RPG finally brings the Swedish franchise to the english-speaking world. But let's see what Chris Birch, the man behind Modiphius has to say.
Stargazer: Thanks again for having agreed to answer a couple of questions for my blog. I guess with the announcement of the Conan RPG you have a lot on your plate, so it even more of an honor that you're willing to take your time for this.
Could you please start by telling a bit about yourself and Modiphius? What was the first roleplaying game you played back in the day? When did you decide to open your own roleplaying business?
Chris: My first was Dungeons & Dragons aged 8, I remember the excitement of being asked if I wanted to join my brother and his girlfriend and their friend who was the dungeon master. I looked forward to those nights immensely. I've always been a gamer since, writing my own rules to play solo wargames or boadgames, writing with friends, then finally writing Starblazer Adventures. I like organising teams though, and realised my strength lies in creating ideas, or worlds and helping find the talented people to bring them to life – whether writers or artists. With the advent of Kickstarter it meant it was suddenly possible to start a business without investment (which would be rare with a games business) and so we gave it a go. I have never been happier!
Stargazer: Achtung! Cthulhu is probably the game that set Modiphius on the map for a lot of gamers. Can you tell us about how you came up with the idea and what your future plans for the franchise are?
Chris: I read the Sgt Rock comics as a kid, and Weird War comics and the Commando comics in the UK. They were often full of strange stories of ghostly Tiger tanks, lost platoons, weird adventures and so on. I'd often build these ideas in to my games. Eventually I was playing Flames of War with friends and we started talking about how great it would be to add creatures to the war games. I'd been pointed in the direction of the Mountains of Madness story by HP Lovecraft – I love stories of lost ancient cities being rediscovered and so the more I learned about Cthulhu the more I realised it was a great mix with WW2. Achtung! Cthulhu was born!
We're currently working on two boardgames  – Shadows Over Normandie with Devil Pig Games and the Secret War by Kevin Wilson which is more a a strategic look at the battle for Europe and life itself! There will be some audio adventures, a fiction anthology in the summer, and our miniatures war-game is launching in the summer. Plenty to keep us going!
Stargazer: You just recently announced a Conan RPG powered by Modiphius' 2d20 system. Can you share some information on what we can expect from this new game and what sets the 2d20 system apart from other RPGs?
Chris: The 2d20 system is very cinematic, it's easily tailored for different genres, and it's super easy to GM. For Conan were emphasising the melee combat and making magic exceptionally dangerous and costly. The Conan line will feature major household artist names on the covers of EVERY book in the line, plus big names doing the interiors, we're also announcing more artists and writers joining the team soon. It's going to be a landmark event in sword & sorcery roleplaying, staying very true to the original authentic Howard stories of Conan, a much more pulp and adventurous version of the game.
Stargazer: Aside from the new Conan RPG, Modiphius current lineup contains several games based on licensed settings including DUST Adventures, the Thunderbirds boardgame, and Infinity. For me games based on popular licenses have always been a mixed bag. Can you tell us a bit more about Modiphius approach to licensed settings?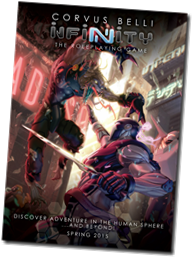 Chris: We look for projects that are cool, Infinity for example has a simply beautiful line of figures that cries out to be RPG figures, in fact they originally designed the world for an RPG but never got around to it, it has a huge and passionate fanbase and so an RPG was a no brainer, DUST has an equally dedicated fanbase and i loved the world of phasers and walking tanks. Thunderbirds was the geek mom and dad game I always wanted to do, that will help us crossover in to a wider market and has proven to be a smash success. If you get the right people involved, licensed projects can really work for you, it's all abut how you utilise licensed games to reach new fans, new markets and so on.
Stargazer: Let's get back to your house system, 2d20, for a moment. It seems to be adaptable to all kinds of settings and genres. Do you have plans to release a generic 2d20 rulebook at some point, which would allow players to run games in their own homebrew settings?
Chris: Yes we are thinking about that once the Conan version of 2d20 is out as it will have given us the chance to push it in different directions. We're also considering a licence to let other companies use it too.
Stargazer: Will there ever be a 2d20 version of Achtung! Cthulhu?
Chris: I think we're busy enough with Call of Cthulhu and Savage Worlds at the moment but you never know, it would certainly make sense one day but we have too much invested in the current versions to want to change, plus Cthulhu players tend to be Call of Cthulhu players so it would be a bit crazy to switch.
Stargazer: I recently reviewed Mutant Year Zero, an originally Swedish RPG, which was recently released by you (for the first time in English if I am not mistaken). It's an awesome game, by the way!
Mutant Chronicles 3rd Edition, which is currently in development at Modiphius, is another Swedish game. Do you have plans to bring more RPGs from Sweden to the English-speaking world like "Drakar och Demoner"?
Chris: Mutant: Year Zero made sense as it's in the same family as Mutant Chronicles, kind of a prequel, but really different universes. I loved the presentation of the game and the rules concepts so I wanted to do it. Just another example of going with something we believe in.
Stargazer:  Back in 2008 Cubicle 7 released Starblazer Adventures a Fate-powered Space Opera RPG co-authored by you. The promised 2nd Edition alas never materialized and in 2014 the license expired. Have you ever considered picking up the license with Modiphius to work on a new edition of that great game?
Chris: I did consider it but we also have a lot going on and part of me wants to look forward rather than back. But I do have a major campaign for Starblazer that never saw the light of day called The Planet Killers so who knows…!
Stargazer: I heard through the grapevine that Modiphius has partnered with the German publisher Uhrwerk Verlag to bring a couple of Uhrwerk's products to the English-speaking world including Dungeonslayers and their Space 1889 game based on the Ubiquity rules. Can you tell us a bit about the deal?
Chris: I can't say too much yet but we will be helping to distribute both games and get them out through our network of distributors across the world.
Stargazer: Is there anything else you want to share with our readers that I forgot to talk about? Now's your chance!
Chris: Well check out the Thunderbirds Kickstarter which is currently rocketing through stretch goals in it's first few days. If you want a truly family friendly yet cool tabletop game by ace designer Matt Leacock this is for you, complete with awesome plastic Thunderbirds!
Stargazer: Thanks again for taking your time for this interview! The team of Stargazer's World wishes you and your team all the best for all current and future projects!