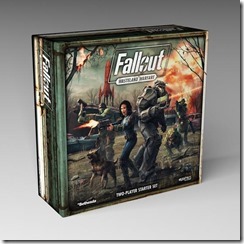 Stargazer's World is first and foremost a roleplaying games blog, but that doesn't mean we can't cover board or tabletop miniature games from time to time. One game I am very excited about is Modiphius' Fallout Wasteland Warfare. It's an exciting Fallout miniature game which can be played cooperatively, competitively and even solo. Since I am a huge fan of the Fallout franchise, I reached out to Modiphius and asked if James Sheahan, designer of the game, was willing to answer a few questions for us. Luckily he agreed. Before delving right into the interview I want to thank James for taking his time to answer my questions!
Stargazer: Thanks again for taking your time and answer our questions. Before we talk about Fallout Wasteland Warfare, let's talk about you. Who is James Sheahan?
James: My pleasure, Michael.  I worked in video games for 10 years and then as a consultant/freelancer game designer for the last 12 years working for games companies, global ad agencies, Google and others.  Like most of us, I have played board games, RPGs, wargames and video games since I was young, and I love film and fiction too.  I actually didn't start out in games as a designer, but I worked my work across into design as that was my main passion.  I have been very fortunate to have had a very varied experience – some of it, even I can't quite believe.
Stargazer: Can you tell us a bit about how the idea for a Fallout miniatures game was formed? What problems arose during development? Feel free to share any interesting anecdotes – we love those! Continue reading Fallout Wasteland Warfare Q&A with Designer James Sheahan →